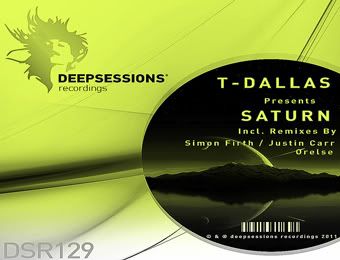 Artist: T-Dallas
Title: Saturn
Label: Deepsessions Recordings
Incl. Remixes By: Simon Firth,Justin Carr,Orelse
Cat #: DSR129
Release date: 30/03/11
One size fits all here. First we got the original which is the definition of a deep track & then come three totaly different remixes.
Simon Firth Remix comes too tricky & a bit experimental in comparison with the original. Justin Carr's Intergalactic Remix goes even deeper making it a nice selection for a deep dj set. Orelse's Punk Conga Mix comes more clubby with
an uplifting vibe using beats that could fit perfectly to a deep tech track keeping also the prog feeling in it.
Suppor By : Peter Martin,Nick Varon,Gai Barone,Magnetic Brothers,Oliver Morgenroth and more..
Beatport
Juno