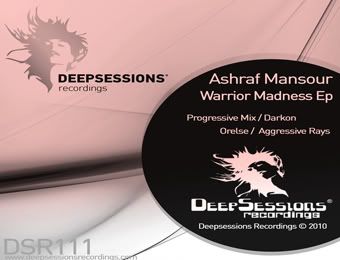 SR111 Ashraf Mansour - Warrior Madness - 10/11/2010
Ashraf Mansour shows what madness is indeed! A solid progressive house ep with great remixes as well.
Orginal Mix is a top knotch tune, well structured and made to move those feet.
Darkon takes it up in trippy journey.
Orelse gives that tribal touch and the Progressive mix is dark & groovy!!
Agressive Rays is a progressive trance filler based on acidized synths and fine atmospheres.
Something for everybody here!
01.Original Mix
02.Progressive Mix
03.Darkon's Dark Night Mix
04.Orelse A Warriors Colour Remix
05.Aggressive Rays
OUT Now
https://www.beatport.com/en-US/html/content/release/detail/289989/warrior_madness_ep
http://www.junodownload.com/products/warrior-madness-ep/1654236-02/
Dj Reactions
http://www.deepsessionsrecordings.com/Ashraf-Mansour-Warrior-Madness.html