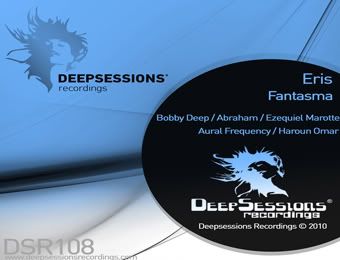 DSR108 Eris - Fantasma - 20/10/2010
We proudly present a very talented lady from U.S who brings us a real killer e.p. Eris made a very powerfull track & offer to us a huge remix pack.
The Original is the definition of darkness using powerfull kicks & a great vocal from Eris.
Bobby Deep comes with a superb remix for every dancefloor, that every dj would like to play.
We got two remixes from Abraham in this e.p, the first is an intro remix with a fantastic feeling & the second is in collaboration with Aural Frequency wich is more powerful but also make you fly to another dimention.
Ezequiel Marotte gives us a warm up track with an uplifting bassline & some very nice strings,
Haroun Omar made a deeper version of the original using Eris vocals in a perfect way.
01.Original Mix
02.Bobby Deep Remix
03.Abraham Intro
04.Ezequiel Marotte Remix
05.Aural Frequency ft. Abraham Mix
06.Haroun Omar Remix
OUT Now
https://www.beatport.com/en-US/html/content/release/detail/286324/fantasma
http://www.junodownload.com/products/1646458-02.htm
Dj Reactions
http://www.deepsessionsrecordings.com/Eris-Fantasma.html